Products
Envision Mobile, a leading mobile technology company, believes that the mobile internet provides a unique opportunity to enterprises and mobile operators to monetize mobile technology by offering offer new and differentiated services that allows them to tap into new business segments and open new revenue streams.
Based on this vision, Envision Mobile has focused on its efforts to power mobile applications that allow our customers to monetize the diversified services with rich application-based mobile solutions delivering the best possible user experience while securing the most sensitive customer data.
Our device-based applications provide the most robust and superior user interface technology available in the market today delivering information in an intelligent manner with unmatched security and optimized data access.
Envision Mobile provides the following applications:


AutoLive
---
AutoLive is a feature rich mobile application that provides the key mobile touch points which enable and strengthen the bond between the brand and customer.

Key features for AutoLive include:

My Car

Instant "Push" notifications

Mobile Roadside assistance requests

Battery and insurance quotes

Mobile Service Tracker

Vehicle service management

Connected car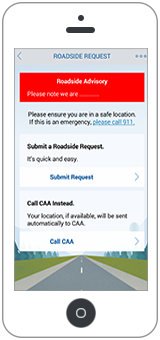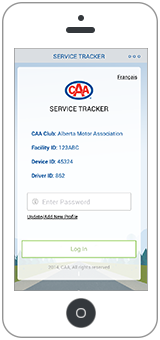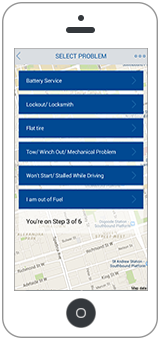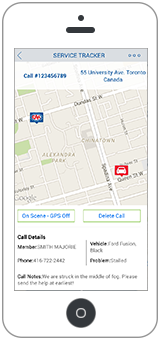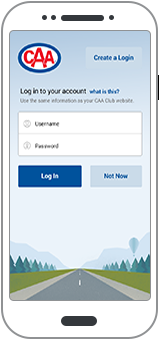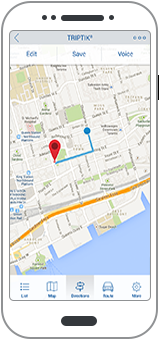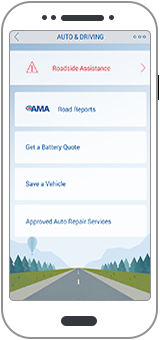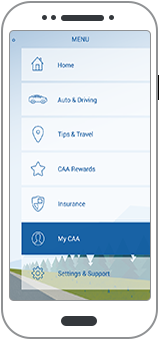 BankLive
---
BankLive delivers easy to use mobile banking capabilities on todays mobile phones. It supports out of the box multi-factor security while allowing banks to customize anti-phishing features.

Account and Funds Management
Account Balance
Bill Payments
Transaction History
Funds Transfer

Customer Services
Locate ATMs and Branches
Account Activity Monitoring
Rewards and Loyalty Programs
Integrated Messages and Alerts

BankLive enables banks to reduce operationing costs, gain traction with youth, provide services to unbanked and migrate workers, as well tap into cash transactions by combining with mobile wallets.

Application Access Options

BankLive offers Financial Institutions multiple distribution options to reach their customer segments and meet the markets needs.

Rich user interface application to provide the best user experience and meeting the most strigent security requirements.

Simpified user interface application that can support most of consumer phones, with ease of use while meeting the strigent security requirements.

SMS and IM based intelligent commands that can be used on all phones.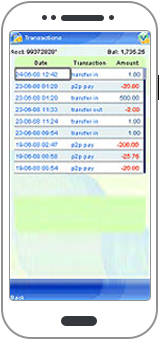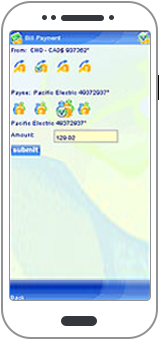 Healthcare
---
HealthLive is a robust mobile healthcare solution that enables pharmaceutical and companies to offer their customers the ability to manage their medical plans and benefits, provide "push" based medical adherence, refill prescriptions, and more - all from their favorite device.
Key features include:
Remote Patient Monitoring
Mobile telemedicine/telecare devices
Health plan management
Manage contact information, privacy consent, and settings by member
Manage all claim information, such as claim details, explanation of benefits, and email correspondence
Digital medical insurance, care provider or pharmacy card
Ability to create and assign reminders for medications with custom time intervals (daily, hourly, weekly..etc)
Record prescription and pharmacy information
Manage medications and enable retail pharmacy proactive refills
Record medication consumption actions
One-click call directly for claim and account questions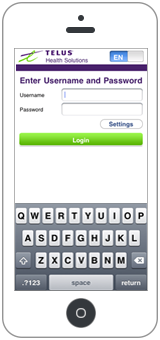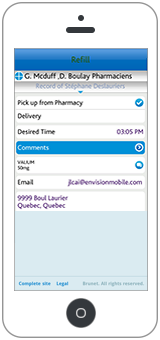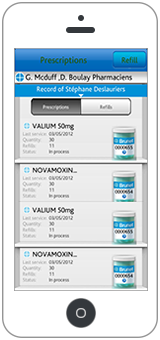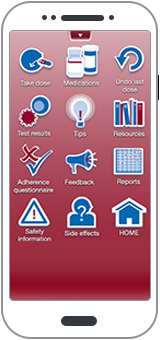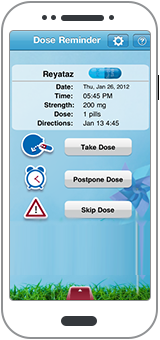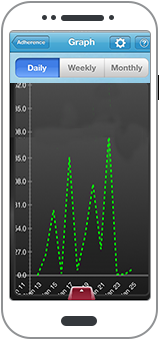 MarketLive
---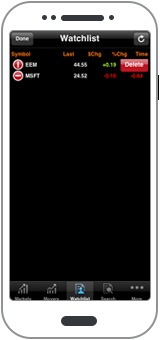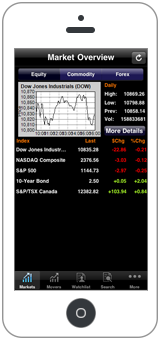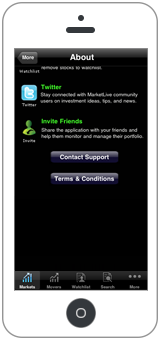 MarketLive delivers easy to use mobile trading capabilities on todays mobile phones. It supports, out of the box direct data feed while allowing a brokerage to deliver customized market data and trading capabilities..
Account and Portfolio Management
Account Summary
Buying Power
Portfolio Market Value
Funds Transfer
Market Information
Market Summary
Stock Search and Quote
Market Data and News
Watch Lists
Trading: Stocks, options and more
Buy and Sell
Status Notification
Order Status
Change and Cencel Order
MarketLive enables Financial Institutions and Brokerage to provide investment and portfolio management, with trading capabilties, anytime anywhere to investors. Our solution allows these companies to gain competitive edge, increase customer satisfaction and generate more revenue.
mCare
---
mCare is a mobile application that allows Mobile Service Operators (MSO's) with the ability to provide superior level of customer experience to their users.
Customers of Mobile Service Operators can provide feedback on their network experiences and the performance of their devices in real-time network issue i.e. network bandwidth, call drop etc. Mobile Service Operators can use this real-time feedback to respond to customer issues as well as leverage the data driven insights for efficient network planning and optimization.
Mobile Service Operators can also use the application to communicate with their customers by proving news and information related to network upgrades and performance improvements in the customer's geographic area. Mobile Service Operators can also send latest news, suggestions and conduct surveys to their customers.
Key mCare Features:
Ease of use; Fast and precise
Easy and quick submission for issue; i-e report of call, data, or SMS problems
Submit a real time report capturing local GPS coordinates at time and place of event, or
Submit a report after the fact when a customer is not at the place where the event occurred
Submit optional additional comments about an event
Speed Test: Test the speed of the network in real-time (upload/download)
Customer Surveys: Conduct customer satisfaction surveys on network performance and customer experience
Push notification support - Receive updates on network enhancements from Mobile Service Operators for issues that customer has submitted (when these news items become available)
Sign up to receive news on upcoming and completed network updates related to submitted mCare reports (when these news items become available)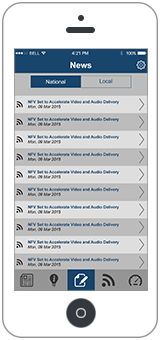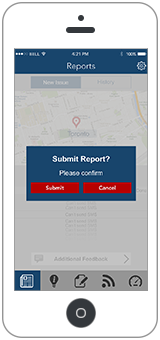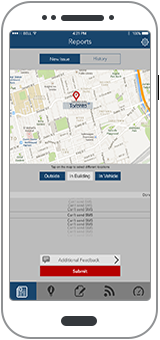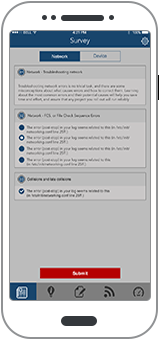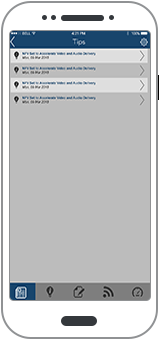 MediaLive
---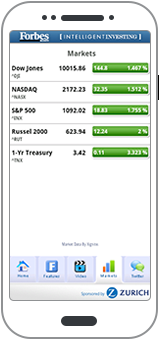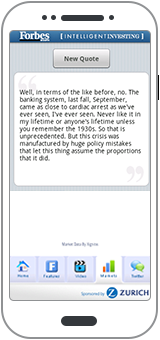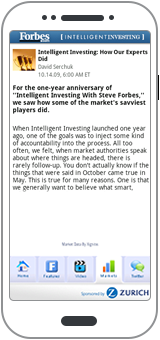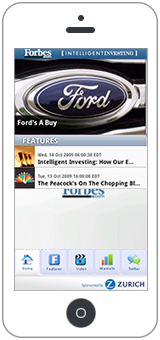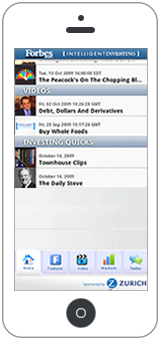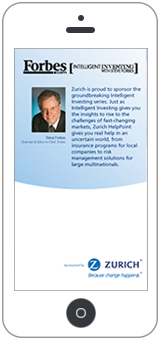 MediaLive is the most robust and user friendly application that allows media companies to deliver their content to mobile users in rich native device format.

MediaLive allows media and content companies to reach millions of users with minimal cost, while maximize on the advertisement revenue. The solution allows our customers to increase the user base with rich analytical capabilities.

Users download the application (with latest content) on their mobile devices with real-time upload on contents in the background.

Industry leaders do not see mobile as merely an alternate delivery channel but see mobile as a strategic tool to connect with the mobile audience in a robust and user friendly fashion.

MediaLive from Envision Mobile offers a new paradigm to media and entertainment companies to deliver information to their audience.


PushLive
---
Unified Push

Enterprise Mobile Platform offers a highly flexible and functional unified push functionality that spans multiple device platforms.

Wireless-powered mobility offers user the freedom to consume content on-the-go and to conduct activities anywhere, anytime. Enterprise Mobile Platform offers the capability for mobile applications to reach the users through various in-band and out-of-band touch points using point-to-point, multicast, and broadcast approaches. All these communication channels can be easily configured and managed from within the communication channel of the Enterprise Mobile Platform.

Enterprise Mobile Platform offers built-in push message notification function to communicate with iOS, Blackberry, Android, and Windows Phone devices. Push messages can be sent out in real-time mode and scheduled mode. In addition, enterprises can configure and choose to deliver Push messages to a specific set of users or group of users.

As an end2end mobile solution, Envision Mobile also provides device-side programming framework, sample code and an end-to-end testing tool to assist our customers to easily and rapidly develop and deploy unified push-enabled mobile application.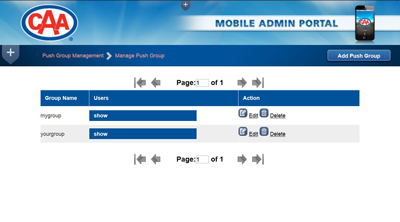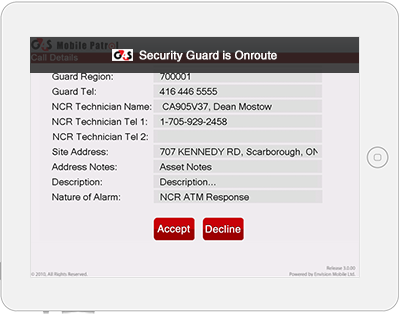 SocialLive
---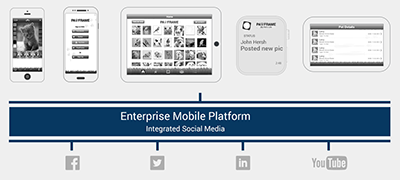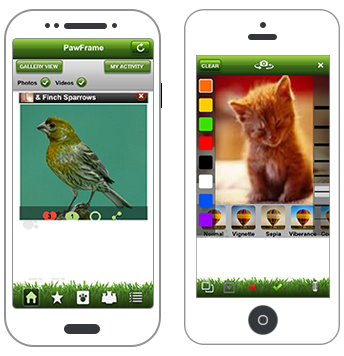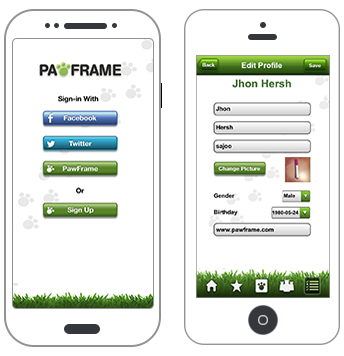 Integrated Social Media

Mobile social media enriches and heightens the mobile user's experience by offering channels to allow the users to engage in interactive dialogues with their social communities, affiliated groups, and (even) business organizations. This interaction dialogue can take place through various media - text, image, audio or video. Enterprise Mobile Platform includes many pre-built adapters to integrate with popular social media sites such as Facebook, Twitter, Instagram, FourSquare and Yelp. These adapters remove and shield our customers from the engineering complexity to integrate mobile applications with various social media platforms and enable our customers to easily and swiftly develop and deploy mobile social media application.

In order to deploy an end2end mobile solution, Envision Mobile also provides device-side programming framework, sample code, end-to-end testing tool to assist our customers to easily and rapidly develop and deploy mobile social media application.
RewardLive
---
The explosive growth of smart phones has provided a unique opportunity to leading brands to build loyalty and affinity with their customers in an "Always Connected" mode.

Increasingly more customers are looking to their phones to search, browse and get coupons for the products they buy at the point of sale.

Providing these users with a rich mobile experience will keep the customer loyalty high and drive higher brand affinity.

RewardLive application suite provides consumer goods manufactures and retailers the ability to extend their eCommerce capabilities to the mobile users in the most effective manner. RewardLive delivers a superb user experience for the mobile users to navigate within the mobile application.

RewardLiveTM is the first such product in the market that allows users to interact with the brand in real-time. Brands can push real-time coupons, allow users to top-up their Store Card (accounts) or Gift Cards, locate the stores and much more, all in real-time.

This new model of reaching and interacting with your target users is new and unique. As the application resides on the mobile devices, this "Push" model whereby Brands can reach and interact with its customers anytime, anywhere in a highly interactive model creates an extremely compelling value proposition.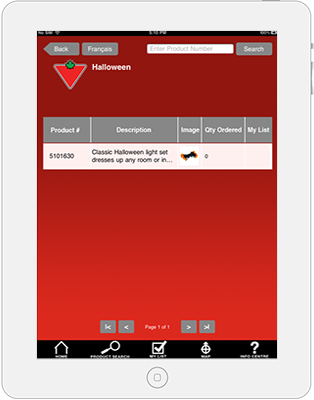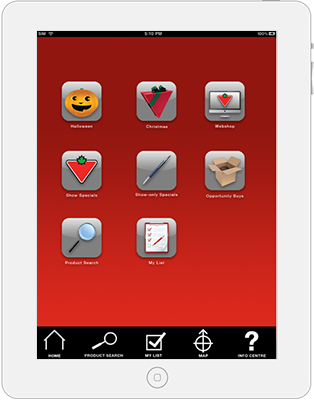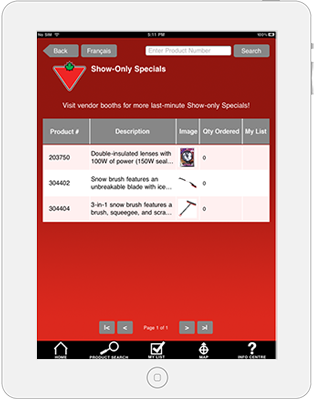 FieldLive
---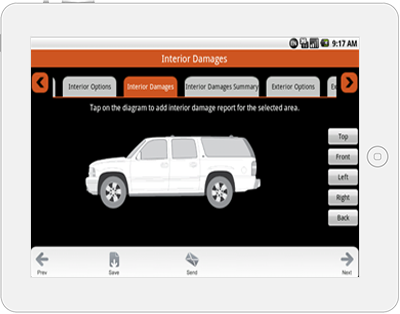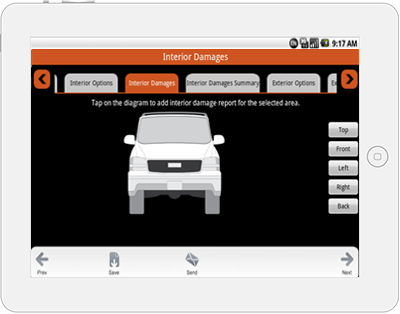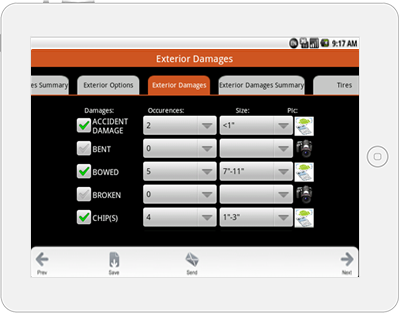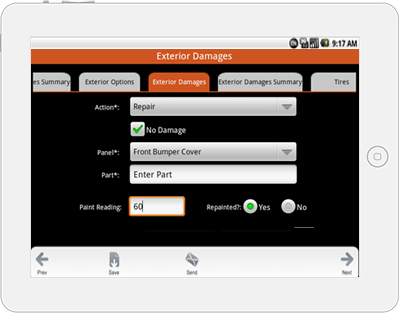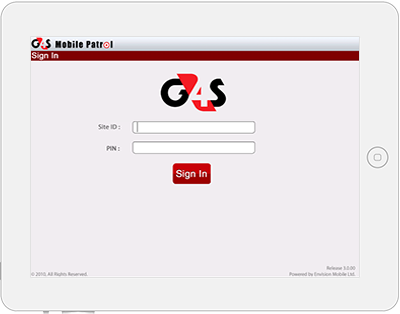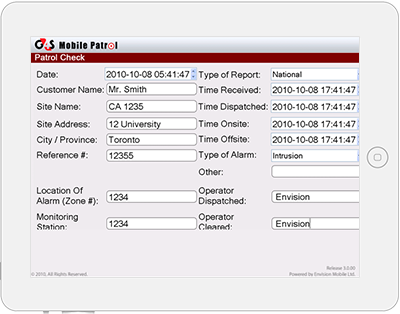 FieldLive from Envision Mobile is a wireless field service solution that strategically automates and streamlines manual processes. FieldLive from Envision Mobile is an end-to-end Workflow Solution that enables the enterprises to automate the last, but most important line of interaction with their customers, driving enhanced customer loyalty.
FieldLive is a robust and scalable solution that goes beyond the basics of mobile field service. FieldLive solution also acts as a glue to centralize disparate applications associated with field service and provides a unified interface for end-2-end field service management. The robust solution eliminates the costs and inefficiencies of a paper-based operation, optimizes service resources, and provides standardized best practices to support key business improvement initiatives and fast deployment.
FieldLive delivers tangible Return on Investment (ROI). With FieldLive, Companies can:
Immediately do away with manual systems and processes, increasing the turnaround time for processing work orders and reducing the errors that comes by way of manual processing.
Provide needed customer information quickly: product, pricing and delivery even when working offline (without network connectivity)
Go beyond the basics of mobile field service data reporting by providing contextual service intelligence to quickly perform more work with fewer errors, and improve customer responsiveness while lowering operating costs.